Thursday, October 23, 2014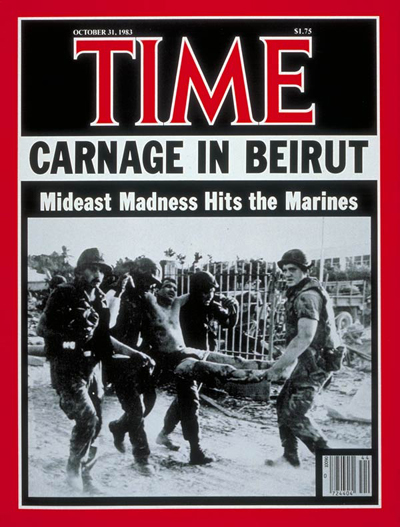 I found this picture at the
Beirut Memorial Online
, and
here
you can find a list of the fallen from this terrible day. Go look, and think about the lives cut short, as represented by every name there.





Aerial view of the headquarters of Battalion Landing Team 1st Bn., 8th Marines, the ground combat element of the 24th Marine Amphibious Unit, in Beirut, Lebanon where 220 Marines, 18 Sailors, and three soldiers were killed when an explosive-laden truck slammed into the building on Oct. 23, 1983, completely destroying the structure.

Source: U.S. State Department.
[...]October 23, 1983 bombing of the United States Marine barracks in Beirut, Lebanon. The United States honors the sacrifices of the 241 American servicemen who lost their lives that day in service of their country while protecting the stability of Lebanon. The Marine barracks memorial on the grounds of the U.S. Embassy in Beirut reads,
"They came in peace."
(
picture: courtesy of
University of Maine)
Wednesday, October 22, 2014
By Susan Duclos, via
All News PipeLine
A student who goes to Emory University in Atlanta, Georgia, was required to fill out a questionnaire when going to get a flu shot and after the area where the student's name and Emory ID were to be filled out, came the questions, the very first being "Have you, any family member, or close associate traveled through or from Africa or Texas in the past 30 days?" (
Image
of the questionnaire shown below)
Lumping Texas, which saw one imported case of Ebola and two healthcares workers becoming infected after contact with the first case, Thomas Duncan, now deceased, in with Africa which has seen
over 9,000 cases with 4,555 deaths from the Ebola virus
, is bizarre in and of itself, but when you consider that it is Emory University .... it becomes ominous.
Emory University Hospital is where one of the first doctors that became infected with Ebola in west Africa,
Kent Brantly
, was brought to in order to treat him. Emory University Hospital is also where one of the nurses from Texas,
Amber Vinson
, was moved to in order to be treated for her Ebola virus infection.
If Emory is being utilized for their Ebola expertise, as evidenced by the government actively bringing Ebola patients there to be treated, then it seems quite telling that they are treating travel through or from Texas, the same as travel to one of the worst Ebola outbreak zones in the world, at the same time as the mainstream media is now downplaying Ebola in the US.